Here at Analog Office World Headquarters, we excitedly passed around CJ Chilvers' essay on the all-around greatness that is the bankers box. Go read it, it is excellent.
And yes: "bankers box" is the correct spelling, no apostrophe; they were originally manufactured by the Bankers Box Company in the early 1900s.
At one time we had hundreds of bankers boxes in our house, when we had to store business records. Since they are so stackable, and in standardized sizes, this was not nearly as bad as it would have been with plastic bins.
Also, I could take a marker and write "DESTROY BY" dates on the outside of the boxes: then we knew exactly which year we could take each box to the commercial shredder. The boxes, being cardboard, could be shredded as well, no need to unload the papers inside. (Most of those boxes were gone after seven years.)
Photo below is a bankers box without a lid, fetchingly posed on the cat tree. (Yes, they are sold with matching lids.)
Check out all the useful information you can write on these to track the contents: box number, box location, destroy by date, from, to – what more would you want to know?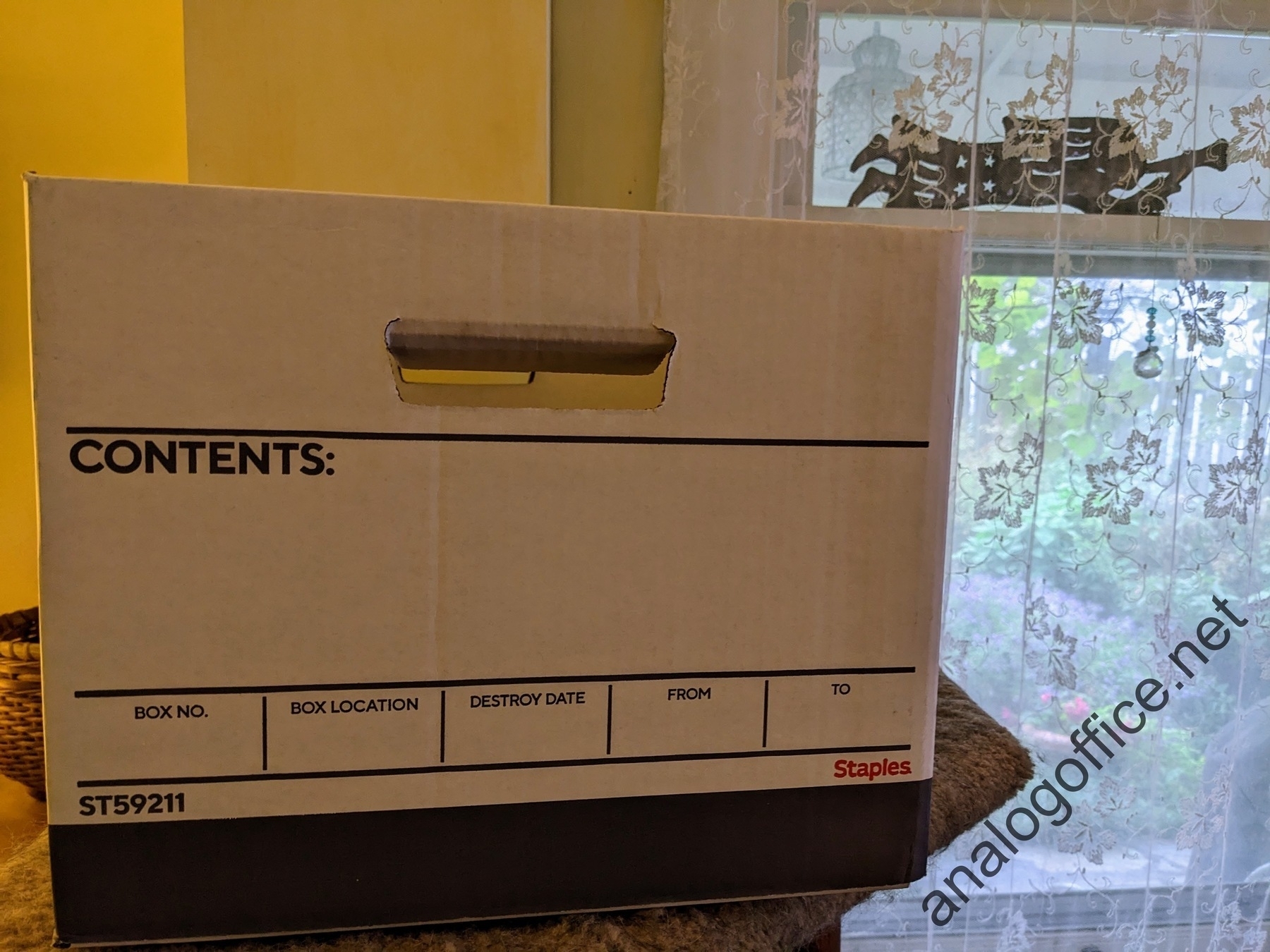 Chilvers covers many reasons why bankers boxes are great: they are sturdy, stackable, unobtrusive, and you can write on them easily.
But you need the right environment to store them.
If you want your bankers boxes to be happy, give them the same conditions as your favorite paper books.
Humidity is the great enemy of paper books and bankers boxes (which are, after all, made of cardboard).
Humidity + paper = mildew and insects. Gross. And smelly. Keep your boxes where they'll stay dry.
Being paper, they can also be fire hazards. Don't burn candles next to them, etc. etc.
Watch the sizing of your bankers boxes: letter vs legal.
Bankers boxes, originating in North America, are made for North American paper sizes.
Some bankers boxes are sized to store letter-size paper: 8.5 x 11 inches. And some store U.S. legal-size paper: 8.5 x 14 inches. (A4 paper is longer than U.S. letter-size paper, shorter than U.S. legal-size paper, and narrower than both.)
Look for – TA DA! – the letter / legal size bankers box to cover all your bases.
Also, it is just a nice size to handle and stack anyway.
These boxes' dimensions are slightly over 11 inches on one side, and slightly over 14 inches on the other.
I leave you with this one weird trick: Stack the box with the narrower side in front to store your letter paper sized files, or turn it a quarter-turn to store your legal paper sized files.
You're welcome.
---
Copy and share – the link is here. Never miss a post from the Analog Office! Subscribe here to get blog posts via email.
Wondering how to manage your paper-based or hybrid paper-digital systems? Ask me a question.
---
Tip o' the Fountain Pen
To CJ Chilvers, whose site and newsletter I enjoy.
References
The Wisdom of the Bankers Box (2023) CJ Chilvers. Available at: https://www.cjchilvers.com/blog/bankers-box/ (Accessed: 25 September 2023).
Gillett-Kaufman, J. (27 May 2016) Why do I always find these silver bugs crawling inside of cardboard boxes? Available at: https://blogs.ifas.ufl.edu/entnemdept/2016/05/27/silver-bugs-inside-cardboard-boxes/ (Accessed: 24 September 2023).
US Paper Sizes - Letter & Legal Paper Format Dimensions (no date). Available at: https://www.papersizes.org/us-paper-sizes.htm (Accessed: 24 September 2023).