Gaaaah, numbering notebook pages.
How tedious is that? Maybe your idea of fun is not sitting around numbering the pages of a notebook (unless you have one of these, of course).
Maybe your idea of fun is using notebooks without page numbering, just you and the naked page.
You're a free bird, a free spirit, a freewheeler, a free thinker, a freehand writer, free to be! Me, too!
But you still want to find stuff in your notebook.
Yeah… me, too.
Fore-edge indexing is a free-form note tagging system that can be done on the fly, to help you find specific pages in your notebook, without numbering the pages or organizing anything else ahead of time.
Drawback: you have to have a bit of hand-eye coordination, and perhaps a grid or lined notebook to make this work; especially if you have lots of topics you want to find again.
Fore-edge Indexing: The Index That Lives on the Outside of Your Books
Let's start with a little book anatomy: the fore-edge of a book is opposite the book's spine; the longest edge of the pages in most books.
Here are two books published with fore-edge indexing: a 5-year diary, where the fore-edges mark the months, and a medical dictionary with thumb indexing for the alphabet: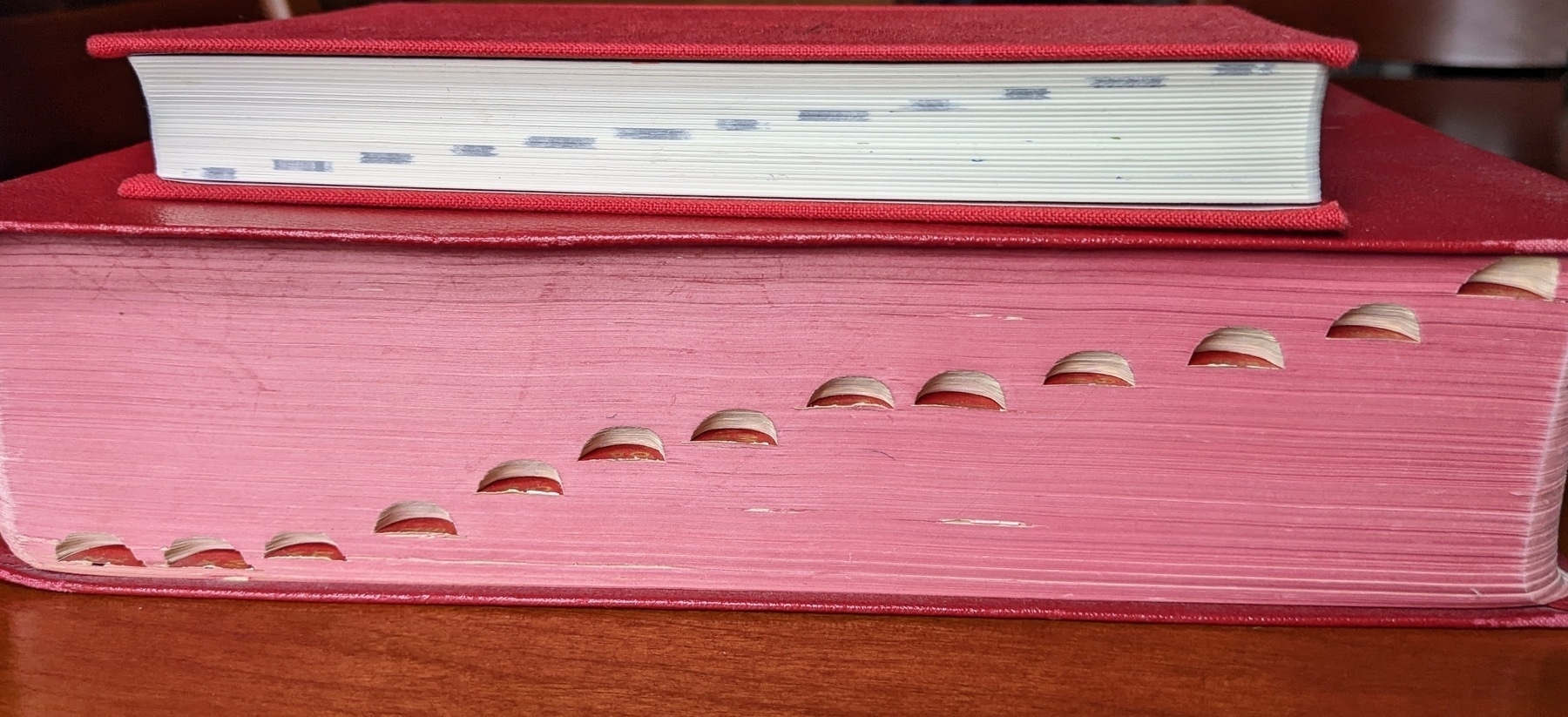 And speaking of that diary above, since popular Japanese planner notebooks like the Hobonichi Techo use fore-edge indexes to mark the months, some people refer to this system as "Japanese indexing."
Okay, so it makes sense to use fore-edge indexing for consecutive series like the months of the year, or the letters of the alphabet for a dictionary. (Address books often have fore-edge indexes, too.)
But what if you want to be able to quickly go back to a few notes that aren't in any kind of sequence; notes that are random?
Fore-edge indexing is really useful for this.
Finding a Few Useful Notes: How I Use Fore-edge Indexing
Below is the capture notebook that I currently fling into my purse.
I used fore-edge indexing to mark the Secret Route to my husband's office, the one that the GPS never shows.
I made a mark on the page with the directions, and then I marked the back page, making a line at the same point on the page that the directions are. Then I wrote down a title: "Back Road Directions to (husband's office)."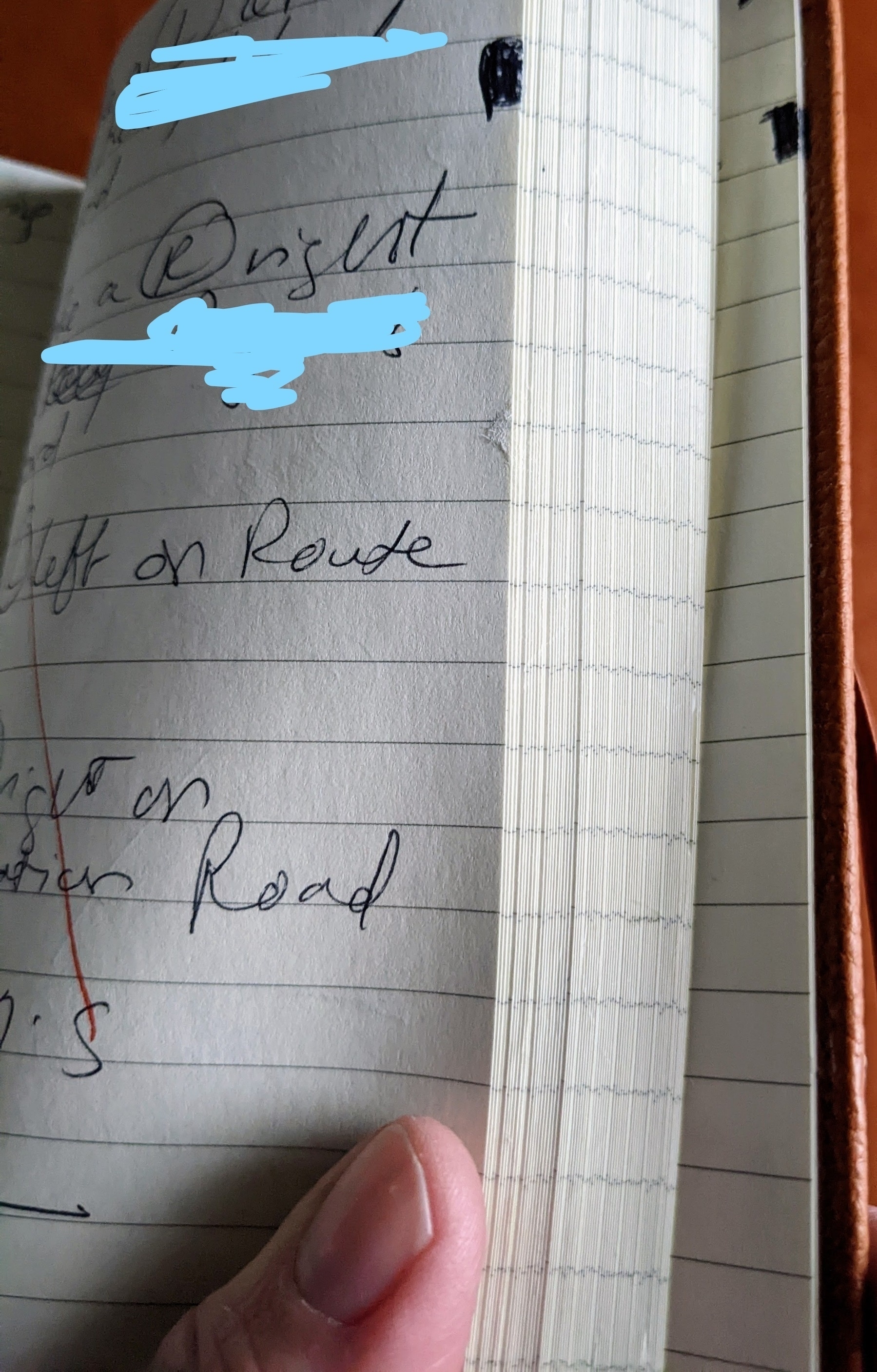 Before I use up the notebook, let's say I write down two more things I want to refer back to, quickly, without going through the effort of making a more formal table of contents.
I've already got Note 1: the directions, where I made a mark near the top of the notebook page; and its corresponding mark at the same location near the top, on my index page.
If I make a Note 2, I could make a mark halfway down the page on Note 2; and a matching one halfway down the index page, with a title for my second note.
For a Note 3, I could make a mark almost to the bottom of the page, with its matching mark also low down on the index page.
I like this system because for me, it's my seat-of-the-pants way to find a few notes again.
But you can do a lot more with this elegant little system.
Check out this excellent guide to do some next-level organizing with a fore-edge index. Also check out Austin Kleon's post here, to see different uses for your notebook's fore-edge.
And speaking of fore-edges, wouldn't it be cool if we still did this?
—————————
REFERENCES
Barnum, G. (2018) 'About Thumb Indexes', American Printing History Association, 22 February. Available at: https://printinghistory.org/about-thumb-indexes/ (Accessed: 14 November 2022).
The High five Notebook (no date). Available at: https://www.highfivehq.com/ (Accessed: 15 July 2022).
Fore-edge painting and indexing - Austin Kleon (2022). Available at: https://austinkleon.com/2022/04/21/fore-edge-painting-and-indexing/ (Accessed: 14 November 2022).
Remarkable invention: fore-edge, the 'disappearing painting' on the edge of a book, now an endangered art form (2018) thevintagenews. Available at: www.thevintagenews.com/2018/03/0… (Accessed: 14 November 2022).